Sunday was spent surfing in Pipa. Very neat town and pretty good waves, but the non-ameteur surfers are pretty cocky (i guess everywhere they are like that)…. "you took 'my' wave dude!" Oh the follow-up for saturday…. nightlife in Pipa revolves around tourists, which comprise a mixed crowd of folks from (mainly) Brasil as well as a lot of europeans, aged 18 to 40! There were two pretty good bars where the action took place and it got very lively at around 2am and started breaking down at around 3:30am. Nightlife Grade = B-
Monday morning, after the breakfast in the hostel we started on to pedal to this small town where we could take the bus to Jaoa Pessoa. I hought it was 12km (based on google maps) but apparently it was 25 so we barely made it to Goianinha on time. Luckily the bus was half an hour late 🙂 When bus driver saw our bikes we said he wont take us on the bus, but again… insisting prevailed. Althought putting the bikes in the baggage compartment was pretty tought… funny on the other hand.
We arrived in Jaoa Pessoa at 4pm and cycled another 12km from bus station (called rodoviarias in portuguese) to the beach. This city reminds me a bit of Singapore, in its shape, in its traffic, roads and the way the greenery is intergrated into the landscape of the city. A very chill place. Staying in the hostel called Manaira. Oh Tom and I lost each other as we were navigating the streets of Jaoa Pessoa looking for the hostel, but luckily we both found the hostel individually…. a bit stressful when something like that happens, especially since we have no other means of reconnecting (well other than email, which in situations like this is the equivalent of snail-mail).
At night we went to eat with some Israeli dudes from the hostel to the nearby foodcourts. These places remind me of Singapore again! Crazy :)) Oh the foodcourts are by this cool hotel called Tambau, and has a round shape – check out the photos.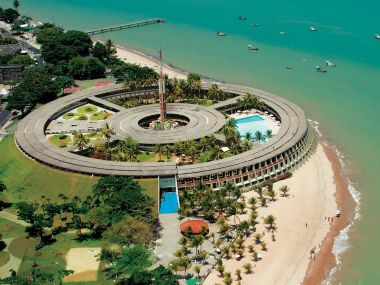 We played volleyball with locals on the beach late until about 11pm and that is not something you would do in places like Rio de Janeiro, where at night beach is off limits if you dont want to get mugged/stabbed (like my friend Thomas did a few weeks ago).
Off to the beach now!
p.s. Thomas is flying out of Recife to Brasilia (the capital) tomorrow morning so either later tonight or early tomorrow morning we are taking a bus to Recife. I am also flying out of Recife to Sao Paulo on thursday morning and getting on a long flight back to Chicago that same night, with a stopover in Mexico City. Thanks Pri for helping me get the airfare from Recife to SP 🙂